Power worldwide with universal AC adapter
DC power from 12V to 50V source
Install from 1 up to 8 channels per USBDR-8
Daisy chain USBDR-8 to control up to 24 channels using just one USB port
USB 2.0 compatible communication
Synchronize all USBPxx-S1 operation in tracking or dynamic control applications
Operate on table top, wall mount, rack mount or DIN rail mount
Optional DIN rail connection kit for mounting the USBDR-8 to DIN rail
Optional 19 inch aluminum rack mount plate available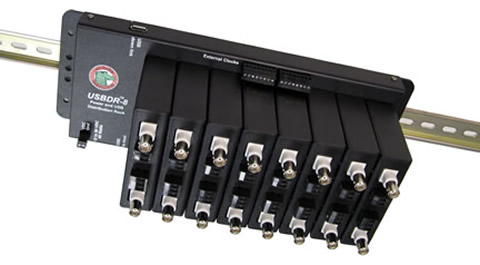 Up to eight (8) USBPxx-S1 programmable instrumentation amplifiers and filter modules can be plugged into a USBDR-8. Up to 24 USBPxx-S1 modules can be controlled on a single USB link to the host PC. Each USBDR-8 has an up-link USB port and a down-link USB port. Up to 3 fully or partially populated USBDR-8 can be daisy chained by connecting the first USBDR-8 up-link port to the host and then the down-link port to the next USBDR-8 up-link port in the chain. The SystemViewUSB Windows software will detect and display an individual control dialog for each USBPxx-S1 module when the USB chain becomes active.
Once the USBPxx-S1 modules have been configured, the USB links can be disconnected. The USBPxx-S1 modules can operate independently and will remember their settings through power cycles. In environments requiring turn-key system operation, this eliminates the need to provide any USB connections to USBDR-8. Power is the only required connection to USBDR-8 for turn-key system operation.